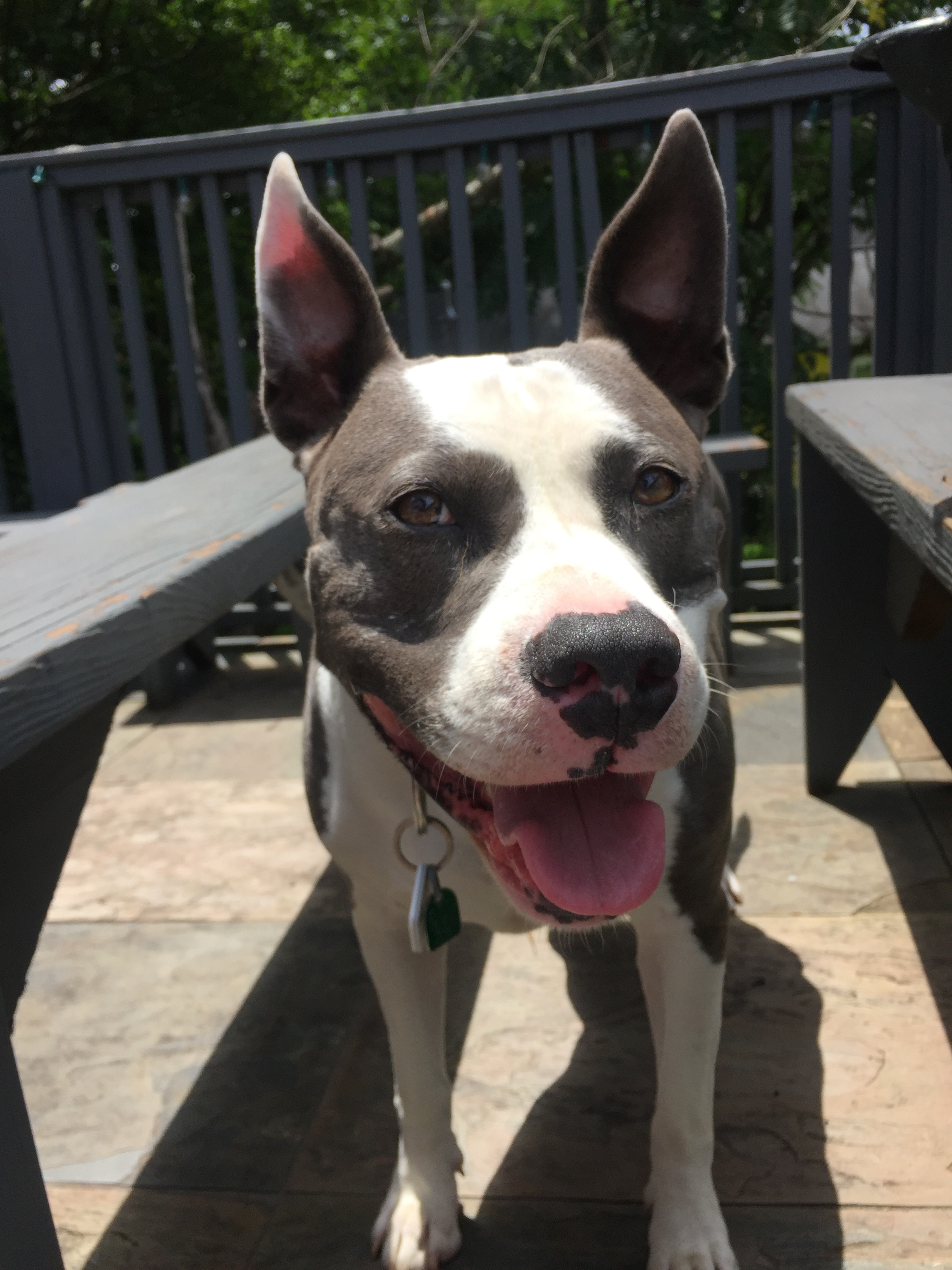 UPDATE: Just by the hair of his shinny-chin, Joker found his forever home in Gainesville, GA two days before I had to leave the state. He is very happily living in a big, beautiful house with lush carpets to lounge on, doing long walks every day and having a ton of fun with his new BFFs. THANKS to everyone who helped in the search for a home for Joker. He is one of those special stories that proves that anything is possible!
Joker is a beautiful Male neutered Pit-Mix, about 6 years old. He has lived at the end of our street his whole life. Sadly, his owner moved away and left him behind on the second-floor balcony where he lived most of his days - barking idly at passers-by - bored to death. When we found him, days later, he was unsure, but VERY HAPPY to see us. At first, we took him for walks and fed and watered him, returning him to his perch. But it soon became obvious that he wanted to come with us and would fit right in at our house. He not only fit in, he thrived!!!
He is VERY SMART and was quickly house trained. He learned how to FETCH STICKS AND BALLS, to "SIT", "DOWN", and "STAY", and how to walk on a leash properly. Shortly thereafter, we fitted him for a doggy backpack [see slideshow] which helps him to feel like he has a "JOB" and helps him work out some of his energy. He also learned to TRUST that we are all here for him and love him and will do right by him. He wants to please everyone and be an integral part of the family/pack. He LOOOOVES to EAT and drools when you make his food. Above all he is a LOVE BUG who enjoys his morning cuddles while we have coffee and read.
Joker's perfect day consists of: Wake up, go out back to pee, cuddles during coffee, BREAKFAST, go for a midday walk or run (up to 2 Miles), big afternoon naps, chewing on his Antler Chewies, more naps, a little chasing tennis balls in the back yard, welcoming everyone home after work, Dinner, snuggling while Humans watch the idiot box or read, and Bedtime.
Why don't we keep Joker, you might ask? I am (as you can see by my website) an actor who splits my time between Atlanta and Los Angeles and cannot have a dog in my home on the West Coast, nor do I want to put him through flights back and forth from LAX to ATL. Although he acclimates to situations well, he will do better in one home, and he does well with a consistent routine.
If you, or anyone you know, is a great candidate to adopt our beloved Joker, fill out the form below and get in touch with us ASAP. We are located in the South Atlanta area, right off 75 at University Ave, south of Turner Field and we'd love to arrange a meet and greet with him. While time is of the essence, we will not settle for anything less than a completely committed, forever home for our sweet boy.
You may also reach TAD directly at (213) 804–0657
An ideal candidate to adopt Joker would be someone who has had dogs before, specifically Pit-bulls or Pit-Mixes, and lives an active lifestyle and loves taking daily runs or walks for exercise. Someone who is assertive enough to make sure he knows that you are the Alpha/Pack Leader and yet allows Joker to be his own powerful self. Someone who will shower him with love and affection. A BONUS: He wants to be around you ALL THE TIME, BUT doesn't show separation anxiety when you leave. So a house or an apartment would both be fine.